2017-2018 Submissions

​Last year, we were lucky enough to be able to receive countless, beautiful works of art. Because we can only accept a limited amount to be put into the magazine, we like to place some of these works on our website, so that the artist can still receive the recognition they deserve for their talent. Click the button below to browse through some of our best writing submissions!
Featured Writing
​
​
Discovering the Spoken

​WOrld

Spoken word is one the most unique forms of poetry, as well as one of the hardest. It does't just consist of writing words down on a piece of paper, but performing the word with passions. Northview's slam poet, Noelle Reid, shares her experiences with spoken word and her motivation and inspiration to create powerful pieces.


​2018 STAFF Eclipse Experiences

​

After viewing the eclipse together, we decided to challenge ourselves as a class to write our experience seeing the eclipse using only one sentence. Reaching over 200+ words, we found new ways of combining punctuation with syntax in order to recreate the eclipse, all while staying grammatically correct.


​A Handbook Guide To a Highly

Harrowing Halloween

In need for a scare, The Muse staff has put together some of the scariest, goriest movies and TV shows for you and your friends to binge on Halloween night! At the end, we were able to sit down and interview one of Northview's own teachers, Mrs. Kohanim, who is currently writing her first horror novel.
Powered by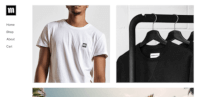 Create your own unique website with customizable templates.