Northview's Fashion Icons

In a telling interview, learn about the lives of Camilia Buitrago, Aanya Gorai, and Kelsey Ahn in how they choose to push the boundaries of fashion and express themselves through clothes. In a mixture of using layers, mixing complimentary colors, and size variation, these three young icons share their story about their passion and how it continues to reflect who they are today.
Powered by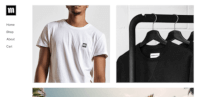 Create your own unique website with customizable templates.