​Northview High School's Literary Magazine, The Muse, is a student-run publication that compiles student-made art and writing into an annual magazine. Founded in 2002, this class was formed on the principles of being able to escape the structure of school and create an environment where it is possible to explore the arts and find your voice. Exploring a variety of works, we focus on combining creative writing and the arts into our publications. Heavily involved within the school, we take the work of Northview's talented artists, writers, composers, and many more and showcase their work to celebrate their achievements. On our website you will find interviews with artists from around the school and community tin that have helped spread their influence and inspired others to follow their passion.
​
​The Muse accepts, but is not limited to, works such as poetry, prose, screenplays, music compositions, song lyrics, and visual arts submissions. Each submission is then critiqued on quality and theme before selection. Students whose work(s) are accepted become published writers or artists, and their art is circulated not only throughout the school, but throughout national competitions as well. Northview's The Muse is dedicated to giving all students' art and writing a voice, an outlet to expand their talent, and a chance to be heard.
Powered by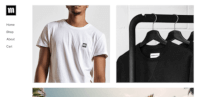 Create your own unique website with customizable templates.