A Handbook to a highly harrowing Halloween
By Mallika Chimpiri, Jordan Scavo, Kristen Harriott
Horror [
hawr
-er] noun.
an overwhelming and painful feeling caused by something frightfully shocking, terrifying, or revolting
What is it about horror that intrigues in massive amounts of fanatics, especially during this time of the year? Experiencing the terror that horror films and novels present and then coming back to reality provides people with a sort of cathartic release from their world. They are simply drawn to horror...just as a moth is drawn to a lightbulb.
Finding a quality horror film or novel to indulge in can be quite the task however, so if you're on the hunt for some, look no further! Peruse our list of the scariest, the most gruesome horror films and novels you should pick up this Halloween!
---
BOOKS:
​
The
Shining
by Stephen King
Hoping to cure an extreme case of writer's block, Jack Torrance becomes a winter caretaker at the isolated Overlook Hotel, bringing along his wife, Wendy, and son, Danny. As time goes on, their trip becomes more and more disturbing once Danny begins to have psychic premonitions that only continue to worsen. Taking a turn for the worse, Jack must now face the disturbing truth of the hotel's
dark secrets and unravel the mystery of the homicidal maniac that runs rampant on its grounds.
---
Murder on the Orient Express by Agatha Christie

(ALSO A MOVIE NOW!)
As millionaire Samuel Ratchett lies dead in his compartment on the Orient Express, his fellow passengers speculate who amongst them is the cold-blooded killer. Detective Hercule Poirot, with no escape from the train, must solve the mystery...before another passenger stops breathing.
---
​And Then There Were None by Agatha Christie
Under mysterious circumstances, twelve strangers are brought onto an isolated island and are caught in the midst of a storm, both physical and emotional, as they realize the reason they were brought together in the first place.
---
---
MOVIES:

It
(TIP: READ THE BOOK PRIOR TO WATCHING THE MOVIE FOR OPTIMAL EXPERIENCE :)
​
Derry, Maine is home to seven outcasts who face their worst nightmare: an ancient, shape-shifting evil that emerges from the sewer every 27 years to prey on the town's children. Over the course of one summer, these children must band together and overcome their own fears and personal struggles to face the shapeshifter, who takes the form of Pennywise the Clown.
---

​The Silence of the Lambs

​Clarice Starling is a top student at the FBI's training academy, who is set to interview Dr. Hannibal Lecter, a brilliant psychiatrist and psychopath with a record ridden with multiple accounts of murder and cannibalism. He, now serving life behind bars, is believed to have insight about an upcoming case and Clarice's job is to draw out the information, but her presence becomes the spark that drives him out.
---


​Get Out

When a young man goes with his girlfriend to visit her parents, what he at first suspects to be apprehension due to his interracial relationship with their daughter turns out to be much more sinister than he ever could have anticipated.

​
---

​The Conjuring

​The Perrons, a family of a mother, father and five daughters, recently moved into a secluded farmhouse only to find that, to their dismay, strange supernatural occurrences surfaced. They call two demonologists known as Lorraine and Ed who come to investigate the odd happenings where they begin to discover that these events would only continue to become more baffling and horrifying.
---


Insidious

John and Renai, two parents of their comatose son, Dalton, begin to believe that their home is haunted by a malevolent spirit. Situations worsen as time continues living in the home, as their son becomes possessed, forming new obstacles and creating the necessity to result in drastic measures.
---
---
TV SHOWS:
Stranger Things
​Set in the 1980's, the town of Hawkins, Indiana is turned upside down with the disappearance of Will Byers and the arrival of El, the mysterious little girl who hides great power. Best friends, Dustin, Mike, and Lucas, befriend her and go on a journey to find their friend, Will, while also keeping her hidden from those she escaped from.
---
​American Horror Story

American Horror Story
is a long running TV show that began in 2011 and has now reached 6 seasons, all with varying plot points, settings and characters. The most recent season is set in a farmhouse that in which the spirits of lost colonial settlers run rampant and odd happenings ensue.
---
​Scream Queens
Wallace University was just like any other college. The Kappa House is your typical, sought-after sorority, where Chanel Oberlin reigns as dictator, but everything gets turned upside down when the Dean declares that sorority pledging must be for all students.
---
Scream
​
After a cyber bullying incident takes a turn for the worst, the town of Lakewood now faces the repercussions of a brutal murder. A group of teenagers become the primary targets of the serial killer, and in an attempt to solve the killer's identity, the group of teens must face the hidden troubled path of Lakewood and conjure memories of a similar murder that occurred in its dark past.
---
---
After reviewing these horror classics of today and of the past, we were able to sit down with an aspiring horror author, Jordan Kohanim, who is a literature and composition teacher here at Northview, and see how she exemplifies the thematic elements of horror that draws in viewers and readers. We discussed what horror means to her, why it's so intriguing, and the process of her novel writing. Check out her interview and excerpt from her novel below!

​An excerpt from her book:
​---
Dr. Brown: "Enough. What's the story?"

A low growl is heard on the recording. More paper shuffling.

Patient A: Then one day, there is a whisper between the two of them. Secret smiles and she stares at you in triumph. She has won him back. He holds her for longer periods of time, and you try to wriggle between them. Push her away, but he does not see your jealousy, or he does not care. He laughs and holds her close and touches her belly.

He will not replace you. He will be able to fulfill the real boy role. You are excited now, as he will be another you--surely. A boy you. You have grown now to realize that you don't need to be a boy to act like a boy. That it is okay to be sometimes a girl, because he will not love you less. You contemplate that when the boy you comes, he will simply fill in the small gaps you have left for him. He will not overcrowd. He will simply do the things you cannot do, and now do not have to try to do. He will be your usurper of failings. How convenient.

He wasn't you though, was he? Perhaps at first, his smiles, his curiosity. You didn't even mind that much that they paid more attention to him. That was okay. You were becoming a little girl--no longer the androgynous child. To the wicked delight of the neighborhood girls who had not developed. They teased you mercilessly. You cried every day on the way home from school. They slapped your budding chest and called you whore and rubbed your face in the dog-pissed dirt of the bus stop. You spit it out and walked home, watching the crows flock as you tried to hunch your shoulders to hide. They cawed at you from fenceposts. Flocks of them cawing and watching with black, lidless eyes.

Then the feeding began. Stuffing stolen mayonnaise-moist Wonderbread in your mouth, hiding in the bathroom stall. You slipped away from their cackles during recess and sat in the gray box sniffling and stuffing automatically—trying to fill that hole inside you. You ate because at home, your brother would not eat. He refused, and over tears and screams, and frustration of your parents, you watched as he shrunk until his skeletal frame and hollow eyes made him ghostly. He would only eat white foods, and all he would drink was milk.

Not water.

Only milk.
RECORDING BREAK: Deep panting approximately 8 seconds. Panting increases in pace. Approximate time: 45 seconds. End Recording.
---
---
---
Powered by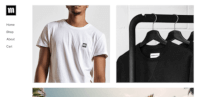 Create your own unique website with customizable templates.